Batch and Validity System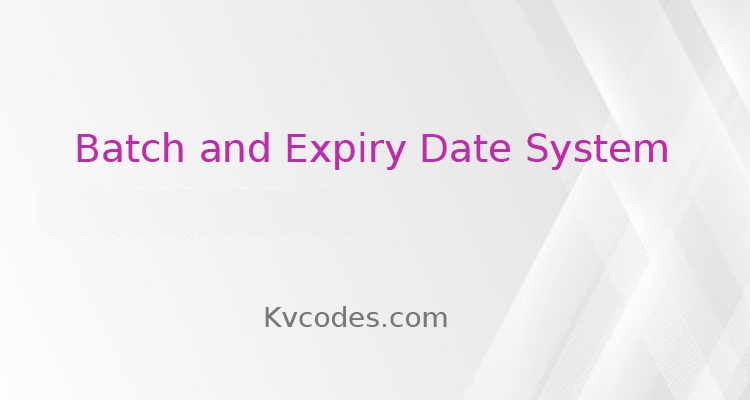 Introduction
Batch Number And Expiry Date For FrontAccounting enhanced to track the batch number and expiry date for items and inventory. It helps to use in Pharma medical companies , Pharma Medical Whole sellers, and Food & Beverage Companies.
Demo Credentials
Username : batchdemo
Password: 123456
Company: Batch Demo
Note : Don't forget to choose the right company during demo 
The system has some test data's you can try with it and feedback us incase if you have any new suggestions and changes looking to add into it.

Updated to FA2.4.14

Features
It helps to track the items with batch number or lot number and expiry date. It has the features of
Purchasing the items with Batch number and Expiry date,  Suppose  if you are doing business of retail distribution from whole sale, you may buy at large quantities and sell it in small quantities. You can use the Sales kit and foreign item codes as well.
Manufacturing module to add Expiry date and Batch numbers when you produce the goods within own company. It helps for the medium and small companies who are all doing the Food and beverage manufacturing
Also you can check the inventory status and its stock volume with expiry date. You can check balance quantity availability with batch numbers and perform transactions with Batch number.
Reports to check the inventory level.
Batch Tracking inquiry to check the inventory.
Purchase GRN, Purchase Invoice and Supplier Credit Note can handle the batch number and expiry date functions.
Sales Delivery, Sales Invoice, and Sales Credit can be used the same.
You can check Stock sheet, Costed inventory, Inventory Sales Report, Purchase Report are available to track the inventory with Batch Details.
Summary
Regular License Selected
$100.00
Single Installation to use it within one install.
Extended License Selected
$200
Multiple installations and multiple company usage.