CRM & Project Management for FrontAccounting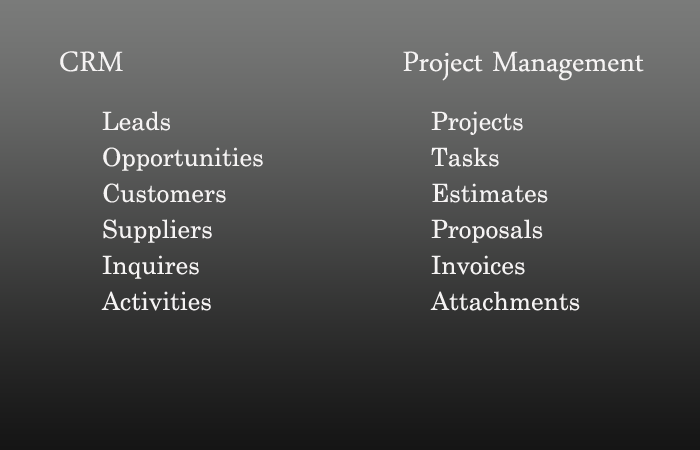 Introduction
The FrontAccounting ERP application has the functionality of customer and supplier management. But it's not fully ready with full CRM functionalities such leads, opportunities, estimates, projects, tasks and tracking of customer activities. The CRM & Project Management for FrontAccounting is added functionality to build and manage your FA with CRM features.

Demo
Username : ucrm
Password : password
Features
There are several features which we will list out here as some points. 


Leads
Opportunities
Customers enhanced with login 
Supplier enhanced with login 
Contacts inquiry
Proposals
Estimates
Projects
Project Invoices
Custom fields and section separation, helps you to add many custom fields to the customers, suppliers, tasks, projects, opportunities
Activities
Emails and Email Template
Pick types and list, helps you add custom options to the drop downs, 
Customer Portal
Supplier Portal
Ticket system helps you to track the issues and supports with invoices, orders, quote, payments, etc
Enhanced users to list them easily. 
Leads
The Leads are the potential to do the business. Lets say whether its company or a person, who can do business with us, only thing is to keep them in regular contact and convince them to do business with us. Hope the Lead helps to increase your business activities.
Opportunities
Its a possible business opportunity with a customer. Lets say the customers, ability to take the opportunity and its probability.
Projects
We might do some specific Project to a particular customer, say for example they might require a custom goods or service with their expected requirement. Which is actually to that particular customer. It wont be sold to other customers like common inventory items. For this project, we will have separate invoice, which can be processed,when they commence to complete it.
Tasks
A customer,or  Supplier, Project, Leads, can have some activities and some described jobs and works, which can be defined as tasks in our CRM, Generally, the tasks are the segregated into many small piece of jobs. and make it final one.
Customers & Suppliers
The most important Part for every business is input and output to it. Customers and suppliers are the two eyes for a business. We have to buy something from our suppliers to make it as finished goods and sell it to customers.
Activities (Calls, Meetings, Followups)
We need to keep track the calls and meetings with help of our CRM to provide better support and better service to the customers.
Attachments
We might require to keep some files as a reference to a business or service.