Extended HRM Hourly Rate For FrontAccounting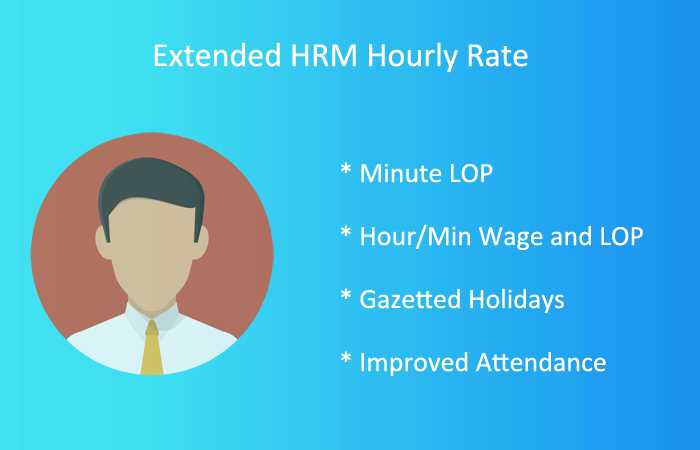 Introduction
Extended HRM Hourly Rate for FrontAccounting is a bit enhanced version of extended HRM to calculate hourly wages and minute basis wages. Also it helps to add holidays. And you can take a backup of HRM and Payroll information. Lets see a brief look at the features. This includes all features of Extended HRM and also some additional functions with it.
Demo:
Username: uhrm
Password: password
Company: Demo
Features

There are some additional features probably you will like to use.
Minute basis loss of pay(LOP) calculation.
Overtime Allowance (OT)
Holidays
Attendance Elaborated
Demo data Clear options
Petrol claims
Travel Claims
Company charges and Reimbursement Allowances added.
Employee Login Portal
Attendance through API
Attendance import
Daily reports, Daily inputs, monthly reports and inputs, etc
Leave Encashment,
End of service benefits
Tax Deductions
Allowance Elaborated
Loan, EMI, Multiple Loans together.
Document management
Reports Elaborated with full profile
 Enhanced Settings 
Minute Basis LOP 
Calculating minute basis LOP will bring absolute earnings and their actually time attendance calculations. And also which works to prepare employee working hours in minute basis to perform
  
OverTime Allowance(OT) 
OT can be Calculated Separately and added to gross pay. It's also min basis calculation. You have the OT Factor on your settings page. Each minute of overtime work will be calculated to create OT allowance. This one a nice feature to bring up with OT on a right calculation.
Holidays
It can be added to allow employees to enjoy the paid leaves and festival season. Which also created based on fiscal years. So, This feature helps to add gazetted holidays to employees. Which will calculated for the salary and and also working hours calculation. 

Attendance
Attendance can be added per minute basis. which brings the company workings hours and also the default attendance will be present to mark easily.  You have two different fields to differentiate the leave days and absent days.
Backup
This is a new feature added to take backup of entire extended HRM Tables and which can be moved to other system or you can keep version backup for your safety. The Backup feature really helpful to move data's from here to another system. when you are upgrading or you have problem with existing installation.  


 

Except this new feature, you have the Extended HRM full features and some of the unnecessary codes and queries removed to increase the performance for the large data's.

Changes - v2.0 
- Some minor updates with GL entries level and its automatically make entries into it. 
- Changed a lot of bugfixes and improved the code stability. 
- Improved the Employee Portal